[ad_1]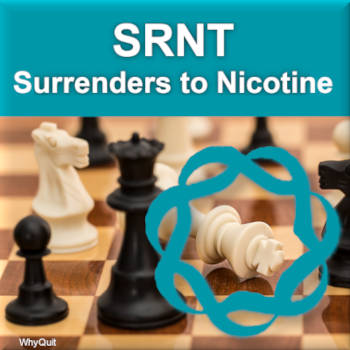 Founded in 1994, one of the most influential scientific organizations, the stated mission of the Society for Research on Nicotine and Tobacco (SRNT) is to "stimulate the generation and dissemination of new knowledge concerning nicotine …"[1].
According to its members, "SRNT is – first and foremost – a scientific society, whose role is to promote unbiased science."[2]
During its 27 year history, which aspect of nicotine science has the SRNT failed to stimulate and disseminate?
Stop smoking via replacement nicotine weaning
Switching from cigarettes to less risky delivery
Nicotine dependency recovery
The Answer
The answer is c. The SRNT has strongly advocated smoking cessation via nicotine replacement therapy (NRT) since its inception, so much so that outsiders might think SRNT stands for Select Replacement Nicotine Therapy.
While answer b is new and the focus of this article, the SRNT has never championed nicotine cessation.
On July 16, 2021, we learned that the SRNT board of directors had voted to tell health providers that failed cigarette quitters should be encouraged to switch/transfer to next-generation tobacco products (heat-not-burn cigarettes, nicotine pouches, and e-cigarettes).
Entitled "Reappraising Choice in Addiction: Novel Conceptualizations and Treatments for Tobacco Use Disorder" (TUD),[3] the 7-page SRNT journal article gives the tobacco industry cause for excitement as it recommends long-term use of 4 industry products by name: IQOS, Juul, On!, and Zyn.
SRNT Product Recommendations
IQOS is sold internationally by Philip Morris International (PMI) and marketed here by Altria, its U.S. counterpart.
As PMI explains it, "Thanks to sophisticated electronics, IQOS heats specially designed heated tobacco units [tobacco plugs within HeatSticks or HEETS] up to 350°C, without combustion, fire, ash, or smoke. This generates a flavorful nicotine-containing vapor, releasing the true taste of heated tobacco. The experience lasts about six minutes or 14 puffs, comparable to that of a cigarette. Since there is no burning, the levels of harmful chemicals are significantly reduced compared to cigarette smoke."
Delivering up to 40mg of nicotine salts, the 2014 Juul teen vaping epidemic resulted in Juul settling a N.C. youth targeting claim in June for $40 million, with more than 2,000 lawsuits pending.
Down to just 2 flavors (Virginia tobacco and menthol), according to Juul, "JUUL products deliver an exceptional nicotine experience designed for adult smokers looking for an alternative to traditional cigarettes. The JUUL Device is a vaporizer, also known as an electronic cigarette or e-cigarette, that has no buttons or switches, and uses a regulated temperature control."
Also in the news is Juul's purchase of the entire May/June issue of a major medical journal for $51,000, and dedicating the issue to pro-vaping studies funded by Juul.
The SRNT's Juul use recommendation hinges on whether Juul has succeeded in convincing the FDA that the sale of Juul e-cigarettes is "appropriate for the protection of public health." A ruling is expected by September 9.
On! nicotine pouches are sold online. Pouches contain 1.5 to 8 mg of tobacco-derived nicotine that's crystallized into nicotine salts. On! is marketed by Helix Innovations LLC, a subsidiary of Altria, the parent of Philip Morris USA. Altria also owns 35% of Juul.
Ironically, while the On! website displays a prominent warning that nicotine is addictive, visitors are told to "enjoy" the pouches, that they produce "satisfaction," can be used anywhere [classrooms?], are designed to produce "maximum flavor," and come in 7 flavors: cinnamon, berry, coffee, citrus, mint, wintergreen, and original.
Zyn is also a nicotine salt pouch. According to Zyn's maker, Swedish Match, a Stockholm-based tobacco company, "Every flavor of ZYN comes in two levels of satisfaction: 3 mg for fresh nicotine satisfaction and 6 mg for even more nicotine enjoyment."
There is substantial concern that next-generation nicotine products are adolescent addiction time bombs in waiting.[4] [5]
SRNT Switching Recommendation Premature?
True "harm reduction" is a no-brainer.
The issue isn't the availability and use of less toxic forms of nicotine delivery, at least where informed consent includes warning that long-term use risks may not be known for decades.
It's the logic and intellectual integrity of TUD treatment recommendations by a pharma-funded society that's championed pharma stop smoking products since its founding, while intentionally ignoring science, research, education, and support associated with the method generating more successful quitters than all others combined.
The SRNT "Choice" paper concludes that "For those who cannot wean from nicotine entirely, switching to less risky modes of delivery might be a secondary goal…"[3]
Understandably frustrated by the 40 million remaining combustible tobacco product users,[6] the SRNT switching recommendation is a natural progression after 40 years of generating and disseminating fatally flawed nicotine weaning science.
Replacement nicotine's most vocal advocate, SRNT members helped convince the world that nicotine is "medicine" and its use "therapy." Ironically, today the tobacco industry uses NRT to help sell the safety of new unsafe nicotine products.
Readers of PMI's "Product Addictiveness" page are told, "In fact, nicotine is a key ingredient in nicotine replacement therapies designed to help smokers quit smoking."
But what if SRNT was wrong about NRT helping smokers quit? What if over-the-counter (OTC) NRT—how nearly all replacement nicotine is sold and used—actually undercuts successful quitting?
If so, should the SRNT be trusted in telling failed NRT quitters that their best-remaining hope is purchase and use of IQOS, Juul, On! or Zyn?
The NRT Ineffectiveness Science-Base
Unlike the real-world quitting pool, randomized clinical trials studied a unique population of smokers seeking free "medicine" or NRT, quitters willing to delay their attempt until told to quit.
Why is that important? Because it's impossible to randomize unplanned quitting. Because population-level studies evidence that planned attempts are up to 240% less successful than abrupt or spontaneous quitting,[7] [8] [9] and OTC NRT is generally less effective than quitting without it.
A 2002 JAMA study found that "Since becoming available over the counter, NRT appears no longer effective in increasing long-term successful cessation…"[10] But the courage to speak truth to power isn't without reputation consequences.[11] [12]
Despite the SRNT's "choice" paper doing so, the body of evidence documenting OTC NRT's real-world ineffectiveness conflict with "double your chances" clinical efficacy findings is now nearly impossible to ignore.
A 2014 prospective cohort study published in Mayo Clinic Proceedings found that "use of NRT bought over the counter was associated with a lower odds of abstinence (odds ratio, 0.68; 95% CI)."[13]
More recently, a 2018 prospective study presented data indicating that cold turkey was 11 times more productive than NRT and 3.3 times as effective (see Table 7).[14]
What does it say about the foundational integrity of the SRNT's "choice" paper in failing to mention cold turkey when a 2021 Urology study found that 115 of 151 smokers with bladder cancer attempted quitting, with most attempting cold turkey (63 of 115 or 54%), and most succeeding cold turkey (42 of 64 or 66%)?[15]
Should "choice" and new choice policy recommendations be taken seriously when the world's most productive choice is ignored?
The SRNT's "choice" conclusions remind me of the 2021 McDermott study which concluded that "When used daily, electronic cigarettes appear to facilitate abstinence from smoking when compared with using no help."
McDermott ignores its own data showing that among the 203 responders most likely to have ended nicotine use and fully arrested their chemical dependence (168 unassisted quitters, 23 medication quitters, and 12 e-cigarette quitters who had stopped using e-cigs at follow-up), that 83 percent did so unassisted ("no-help").[16]
Even the Surgeon General's 2020 Smoking Cessation Report reluctantly acknowledged that cold turkey generates more successful real-world quitters than all…
[ad_2]

Read More:SRNT surrenders to nicotine